Crusader Kings 2: Game of Thrones Multiplayer Roleplaying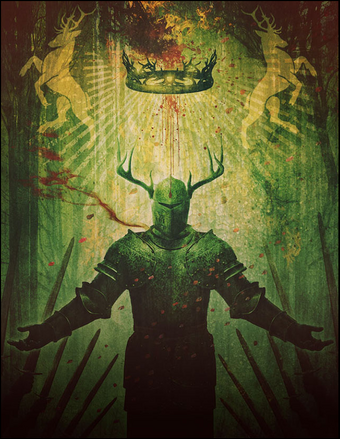 Welcome to the wiki page for the GoTMP group. This group was founded in October of 2014 as a way of organizing multiplayer games of the Game of Thrones modification for the Paradox Interative title - Crusader Kings 2.  Group games are structured in two different ways, and categorized as such; Daily games that are more casual and akin to 'pick-up' games that will host more experimental scenarios, and weekly games, which will strive to provide engaging scenarios with character roleplay and continuity of gameplay over multiple weeks.

This wiki will serve as a collaborative effort among members of the group to chronicle our weekly games, write about noteworthy events, and list interesting characters that appear during our games.
Current Active Games
Sunday: (Upcoming) The Egg who failed to hatch the egg

Previous Weekly Games:
2017
2016
The Flawed Codd (Jan. 21 - Mar. 1)
The Broken King - (18 Jan  -  17 Feb)
The Grand Campaign Season Two - (Oct 28 - 13 Jan)
Petty Kingdoms - (7 January - 29 January)
2015
The Death of Dragons (Sept. 23 - Oct 18)
Faith Militant - 1 January 8043 (24 July - 18 August)
The Grand Campaign Season One - 1 January, 7996 (May 13th - July 17th)
After the Spring - 1 January 8221 (April 17th - May 13th)
Nine for a Penny - November 11, 8259 (March 27th - April 17th)
The Black Dragon - May 31, 8196  (Feb 27th - March 27th)
Redbeard's Folly - September 9, 8226 (Feb 20th - Feb 27th)
Kings and Corpses - January 1, 8262  (Jan. 2nd - Feb. 14th)
2014
Blessed is the Broken Spear - January 1, 8170 (Dec. 6th - Dec. 20th)
The Bitter End - January 1 8240 (Nov.7th - Nov.15th)
Over time, certain characters have proven to stand out throughout our games.  Noble kings, secret bastards, and devious schemers - of low birth and high.  From the honorable knights like Ser Martyn 'the Dragonslayer' to twisted rulers like King Joseth 'the Monstrous' of the Trident, The Hall of Heroes is where these characters will be listed, and serve as a place to recount their deeds and ambitions.
Latest activity
Community content is available under
CC-BY-SA
unless otherwise noted.